Dining at Paradise Inn
There are no services available at Paradise, please be prepared prior to arrival. 
The intrepid vacationer can explore more than the wilderness with Mount Rainier National Park's exquisite dining options. The dining rooms of Paradise Inn and National Park Inn offer signature dishes with a variety of American favorites.
We also offer a variety of cafes in the park where you can sit and relax over a hearty meal and refreshing beverage or grab-and-go as you continue your adventurous exploration of Rainier.
Our expert culinary staff utilizes organic ingredients produced by sustainable agriculture when available. In the great Northwest, we have the magnificent mountains, Pacific coast, and America's farms all around us. Gently blend with the best climate for growing and tending, and you have the magic recipe for great food.
Lobby Service Hours
Lobby Service Hours
Closed for 2020 Season
Piano Hours
Closed for 2020 Season
Cozy. Historic. Reconnected.
Let the graceful melodies of classic piano played on the historic, handmade upright piano soothe you into a peaceful afternoon by the fire with a 1920's inspired cocktail or a pint of beer. Grab an appetizer and relax with a book or reconnect with family and friends, new and old, with board games by the light of hand-painted lanterns. End your evening with a nightly National Park Service Ranger-led talk covering a variety of topics.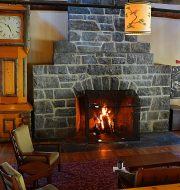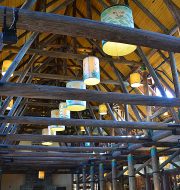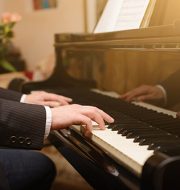 Paradise Inn Dining Room
Paradise Inn Closed for 2020 season
Imagine the setting of Mount Rainier and its entire splendor as the backdrop to a perfect meal guaranteed to satisfy the heartiest adventurer. At the Paradise Inn Dining Room, you can dine by a blaze in the hearth of the great fireplace as you feast on such Paradise Inn favorites as Bourbon Buffalo Meatloaf.
Hours of Operation
Closed for 2020 Season
Reservations are not accepted in the Paradise Inn Dining Room.
Tatoosh Cafe
Located inside Paradise Inn, Tatoosh Cafe is a cozy and casual coffee shop-style spot offering a variety of grab-and-go sandwiches on artisan bread, ice cream, snacks, beverages, and delectable fresh pastries. With wine and beer on tap, it's a wonderful spot to relax on the patio in the evening while listening to a fascinating talk from a Park Ranger.
Hours
Closed for 2020 Season